MAKING OF : The (difficult) art of writing a game on the NEWS
---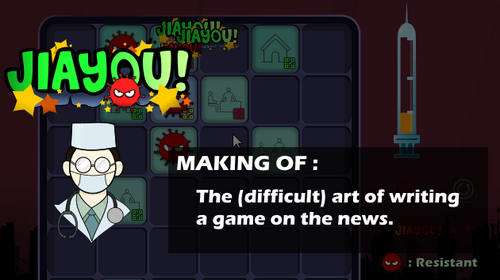 The complex experience of writing a game on the news, where we are always TOO LATE to be useful, TO EARLY to be attractive, but RIGHT ON TIME to be legitimate.
A story of ever-changing goals, too.

Building a game, as if it was reportage.
"Writing a game on an event WHILE it is occurring, to be played WHILE it is still occurring."
Together with Rature , Jiayou MemoVirus took us by surprise. We had never expected to create such a game. However, one day the idea landed in our minds. And it DEMANDED to be created. So we obliged...

There were some reasons, though, that idea choose us : since a few years, I was exploring the concept of the "Game which induces things". That is, those games, psychological, artistic, serious, or just - games-, which change the way you see things. And the Coronavirus epidemic gave us the opportunity to try something : writing a game about an event WHILE it is occurring, to be played WHILE it was still occurring. A bit like reportage.

That concept is not new. Every election, for example, tens of games are being created about the candidates, the election mechanism, the main campaign topics...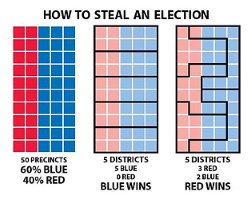 Gerrymandering, a game to play with and understand the process "gerrymandering" in the USA : "redrawing districts of a city to benefit their political party".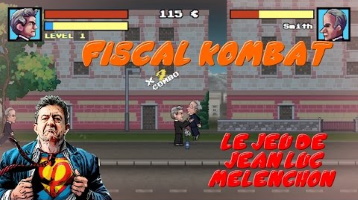 Fiskal Kombat, a game to support Jean Luc Mélanchon, candidate to the French presidential elections, in 2017. (Montage by the YouTuber SlayerGone )
So we felt THE NEED to write something about that epidemic.

The epidemic, a fascinating and story rich subject
"There is a story to be told, unfolding right before our eyes."
It all started in January 2020, one week or 2 before Wuhan had been quarantined. The Coronavirus epidemic had caught my attention :

First, since the H5N1 epidemic, I was fascinated with the act of contagion, and its depiction in video games. More specifically, the way your closer relatives suddenly become a threat to you, and the dramatic stories it creates...

Also, as the events were unfolding, I have been moved more than once :
I was shocked when the fear against anyone looking Chinese spread throughout the world, leading to the #IAmNotAVirus hashtag ;
I was astounded at the news of Wuhan confinement
I was deeply moved by its inhabitants when they were shouting "Wuhan, Jia You!" at their balcony to support each other in the first few days of their quarantine ;
I was amused when we learned that the virus might have come from the Pangolin, a very special animal in the heart of the kids who were grown in France in the eighties.
To make it short, every day was bringing something new. And there was a story to be told, which was unfolding right before our eyes.

Early February : a game, because players will like it!
"Look a Plague Inc. sales ! They will like it !
The idea to create a game on the subject took me the 2d of February. I quickly made a prototype, sent it to Rature, and the day after he was ready to work with me on the project.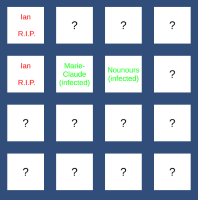 Memovirus, the original, realistic, unfair, yet fun prototype. (2nd of February 2020)
Originally, we wanted to create that game because the subject was INTERESTING. And also because other epidemic-related games, such as Plague Inc. had a great success. Maybe was it a good subject to attract players? And maybe attractive enough, to consider selling it and making a bit of money!

Mid February : the urge to warn about what is coming to us...
"It is just flu. We don't risk much."
"But God damn it! The problem is not you. The problem is the hospitals which will be submerged!"
But gradually, our main focus shifted even though people were scared, there was a strong denial in France. "It is just flu" have we heard so many times from friends. Even if 11 million people had just been quarantined in China, there was the belief that it could simply not happen in France. For some magical reasons we were just -better-...

I enraged! We HAD to publish the game quick, to show the player what was happening right now, to make them experiment what was quickly coming to us!

To be honest, we also hoped that once the game was published, we could also sell a declination of the game as a "Serious Game" , for example in association with prevention messages. Hey, you can have something to say, but also need to make a living! And, I also believe that used correctly, games are a powerful tool to change the way people look at things.
Early prototype. "We incarnate Li Wenliang, the first doctor which signaled the disease." 6th of February 2020

Late February : the feeling of emergency.
"But making a game takes time. In 2 weeks, it will be too late..."
But creating a game takes time... And every day, something new was happening and people awareness was evolving :
Chinese restaurants were shutting down in Paris,
the ferry Diamond Princess was quarantined,
a potential treatment was being tested and apparently it was "Game Over" for the Coronavirus,
Korea was being infected...

Hardly had we included something in the game that it already was old news, pushed away by something bigger, closer, scarier. And we kept running to publish the game before it was too late! Before the virus was there!

We finally froze the texts and level design the 6th of March. The latest event we could include was the cancellation of Paris Marathon the 5th. And we released the first version the 11th!

Jiayou Memovirus, first version, released on the 11th of March 2020

Mid March : too late to warn, but on time to give support ?
"We are 3 weeks too late for any prevention. But maybe we can encourage them ?"
Finally... We had our tool to warn our players about what was coming to us! We sent press releases wherever we could. However :

The 12th, the French government announced that the schools were shutting down.
The 13th, that every gathering larger than 100 people were forbidden.
The 14th, that all restaurants and pubs will close this day at midnight, and until further notice.
The 16th, that France was confined...
The least we can say, the 16th, there were not many people left in France who had to be explained about the pandemic... Nor institutions in need to invest in a subtle tool for the prevention against the Virus. Jiayou Memovirus was 3 weeks too late for that...

So, was there still a point in the game? Had our many late nights and busy weekend been of any use?

Well, yes we thought... It was too late to warn against anything, but the main message "Jia You!" - "Keep going!" was stronger than ever! Actually, we spent our first confined week with the urge to shout (through various messaging app...) "Jia You" to everyone!

Gamewise, there was not that much to say about our confinement... All feeling of emergency had disappeared, but there were still things to improve on the game. However, we were also experiencing ourselves what we had described in the game. The reactions around us were fascinating, and evolving as the confinement was progressing. It was tough though to collect them. And we had no idea what to make out of them...


Early May : Right on time to be legitimate
Mid June : too early to be attractive
"Fabien, people are leaving confinement now. They want to forget about the virus."
"You are right. Jiayou Memovirus is not a game for now. It is a testimony. Maybe for next year. Or later..."
However, as the end of the confinement became tangible, we had an idea! Why not tell about OUR confinement in parallel of Wuhan's? With a 7-week shift, these 2 confinements would probably share similarities, but also bear differences which might make create "something" interesting.

In the same way as we felt that publishing the first version BEFORE our confinement brought us some legitimacy, it was important to us to write our story BEFORE our confinement ended. And a date had been given : the 11th of may. So, we spent the weekend of the 9th and 10th remembering our feelings, browsing our messaging history, digging out our browser bookmarks, searching old articles, and writing OUR story.
Wuhan's would happen on the game board, ours through the level achievements. And often, the resonance was incredible!
But, of course, creating a game takes time... That new story, as it was told through the level achievements, created a new emphasis on the score. And it required a serious evolution in the gameplay . So it took us another month to release that new version... It was published on the 10th of June.

Jiayou Memovirus, seconde version, published on the 10th of June 2020
But honestly, while people are slowly getting out of confinement and coming back to normal life, do they -really- want to revive these last few months?
So once again, we felt right on time to tell something with legitimacy, but totally off tempo with our potential audience... Once more, we shifted our focus : our game is a great testimony, written in the heat of the events. Today it might be inaudible. But later, when the epidemic and its aftermath will be long gone -maybe in a few months, maybe next year, or maybe in a few years- then Jiayou MemoVirus might be of a great value!

In the end : writing a game on the news, yes. But with shifting goals...
"We believe that we created something of great value. But which it might still be a bit too early to appreciate."
So, during these last 4 months, our motivation remained. The game is out, in a state we are proud of. And we believe that we created something of great value. But which it might still be a bit too early to appreciate.

But our goals kept changing, as the events imposed their tempo :
The wish to make an interesting game that player would love and might buy.
The urge to warn, and maybe sell a serious game for prevention.
The desire to support the others and keep strong, together, in the adversity.
The hope to have written a precious testimony, for later years...

I still believe that writing a game on the news is worth it. But you either have to be extremely quick, or adapt your goals to the speed at which the events are unfolding.
The experience also led to a very interesting narration, with OUR story being added afterward, on top of WUHAN's. But that's the topic of another article : "Nested narrations" ! ;-)

Well. Now I think that it is time to play Jiayou Memovirus! And maybe go in the street to shout "Mankind, Jia You !" Or just leave a comment.
Don't you think ? ;-)
Jia You !