EN : Jiayou - new version released, and secret link to early prototype !
---
Jiayou V1.03 is released !
With more explanations, and some secret link to our early prototype.
Play it there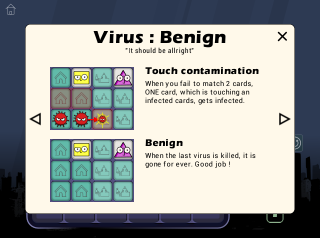 Some visual explanations
Main changes :

Visual explanations - It will now be much easier for the player the grab the tactical subtilities between the different viruses...
Stars on level - The game will remember how well you have performed. And you can come bacl later to improve your score
About page - You will finally get to know better who made that, and why. There might also be a secret link to our early prototype lurking there ;-)
and many more little yet important things...
What might come next ?

We plan on keeping developping the game, and exploring ways to add to the Covid-19 epidemic narration. They main story has been written while the local epidemic was become a pandemic. But now, we ourselves are confined... There is much more to say about that. So you can expect some interesting achievments, and more talkative characters ;-)
Oh, and maybe a "costum play mode" ! But we will see...
Have a good game !
And as we say, "Stay the fuck at home"
Play Jiayou Memovirus there