V1.04 released ! More gameplay, more story...
---
That's what we call a major update !
Jiayou Memovirus is a documentary tactical Memory-game, retalling early COVID-19 epidemic (mostly its emergence in Wuhan).
Some confinements stories to tell...
We published our first version a few days before our own confinement in France. But since then, we have experienced our own confinement, and have more things to share. So, we built this new version with these stories mixed : Wuhan's on the board, and ours through the level achievments. With a 7-week time shift, the parallel is ... suprising.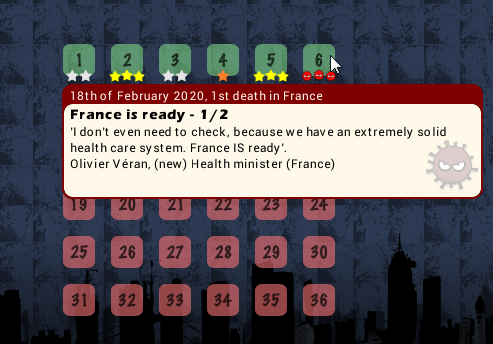 Telling about our confinement, in parallel of Wuhan's
We also massively improved the game play :
More virus ! 5 different types, with different propagation logic and challenges
Better in game explanations !
More strategy. Some levels are now less memory based, but more minesweeper like, with a bit of risk management.
Plenty of tiny life changing changes, which make the much more fun but challenging.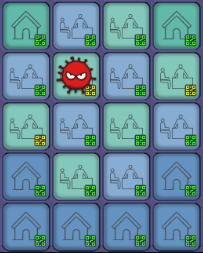 Some hints, to bring deduction and risk management to a memory game
So, fell free to try, comment and share !
Good or bad, we would love to have your feedback too ;-)

Files
JiayouMemovirus_mac_v104.app.zip
20 MB
Jun 10, 2020
JiayouMemovirus_20200610_13.zip
Play in browser
Jun 10, 2020
JiayouMemovirus_Win_V104.zip
19 MB
Jun 10, 2020